TAKE A
LOOK AT
THESE NUMBERS
You can always count on us
57, years spent constantly seeking printing perfection. A heritage of experience – based on solid foundations – which allows us to look forward. 50 people working on every type of product: from receiving the file to delivery of the printed product. Every phase is under close quality control by highly qualified technicians. We operate in three working shifts, 24 hours a day. That's why GrafArt can ensure minimum delivery times.
3 years – the average age of our equipment. To offer our clients the best technology available.
35 – the average age of our technicians.
70×100 – the format of our printing machines.
20.000 paperback catalogues a day – our productive capacity.
12 million Euro invested over the last 6 years.
1966-2023: 57 YEARS IN THE BUSINESS
57 years – and it shows! Our day-to-day commitment, along with pride, emphasis on technological innovation, customer care – and a typical piedmontese stubbornness – are the ingredients that make GrafArt a reliable and trustworthy company.
In our long experience, we have seen profound changes in our, as in other, sectors. The technology applied to the printing world has evolved, reaching very high levels in terms of competitivity and flexibility.
GrafArt has always tried to take full advantage of the technology's characteristics and potential to offer our clients the best possible service.
We are aware that our experience is a bonus to our client. But experience in itself is not enough. We know that to reach the excellent quality of our products also takes enthusiasm.
That is why we want our company to be open to young people – a natural reserve of energy on which to transmit our passion for quality printing.
This is our greatest investment in the future, and that is why the average age of our technicians is under 40.
Both in terms of technicians and equipment, this is the spirit that animates the work at GrafArt. A world made up of motivated personnel and latest generation printing machines, to get the best possible print product.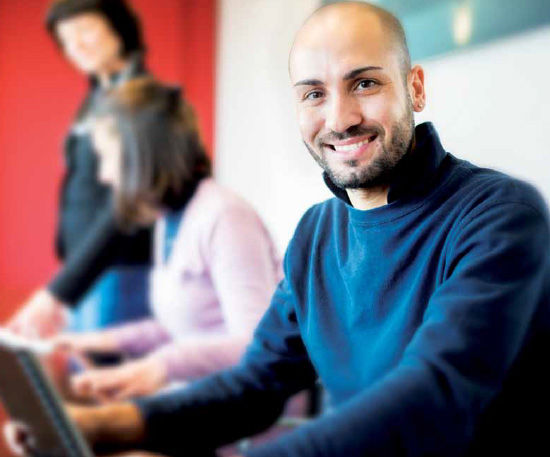 "We are aware
that enthusiasm
is required to achieve
excellence in the quality
of our products."